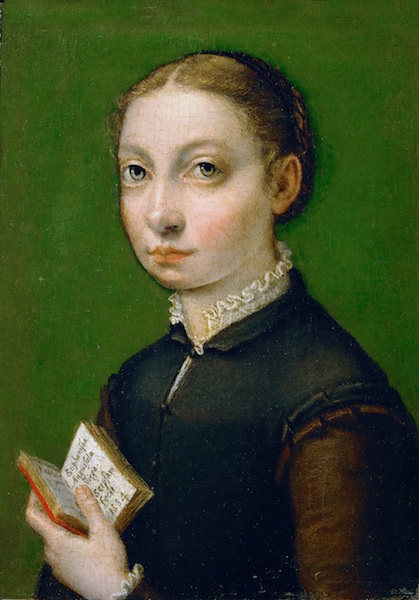 Self-Portrait, 1554
Internet
The first woman artist to establish an international reputation was Sofonisba Anguissola. She created her most endearing work early in her career: portraits of her family in informal situations and self-portraits. The fame garnered by these works led to her becoming a court painter in Spain in her 30s; her position required her to work in a more formal manner, with abundant attention to fabrics and textures.
Sofonisba's major contribution to the story of art is that she modeled the possibility that a woman could succeed as a professional artist. She was an important as a role model during her life, and is now revered by women artists as their earliest ancestor.
Very little of her work is shown in museums. Much was lost in a fire; much is in the Royal Collection at the Prado Museum. Some remains in Italy.
Background
: Sofonisba was the eldest of seven children, six of whom were girls. Her family had noble heritage but was relatively poor. They lived in Cremona, an intellectually progressive town in northern Italy.
Training
: The reason Sofonisba had the opportunity to develop and use her artistic talent was that her ambitious and progressive father, Amilcare, supported and guided her. Amilcare ensured that his daughters had a humanist education and encouraged them to cultivate their talents.
From age 14 to 17, Sofonisba, and one of her sisters apprenticed and boarded with a prominent local painter, Bernardo Campi, which was unprecedented at the time. When he moved, Sofonisba studied with another painter.
Bernardino Campi
Adoration of the Shepherds, 1574




At the age of 22, after she had been painting professionally a few years, Sofonisba traveled to Rome. There she met Michelangelo, who immediately recognized her talent, and trained her informally for about two years, critiquing her work by mail.
The Chess Game, 1555
Sofonisba's sisters playing chess.
Career: As a woman Anguissola was not allowed to study nude models, so she could not undertake the large scale scenes that had the most prestige. Instead she experimented with new styles of portraiture: she posed her subjects in informal ways such as playing chess or holding animals.
Amilcare quickly noted her talent and bolstered her career by widely promoting her work in Italy and abroad.
While beginning to earn a living, Anguissola trained 3 of her younger sisters to paint. She no doubt needed their help; artists needed studio assistants to handle the many tedious tasks, such as grinding and mixing pigments.
At age 27, when she was already well known, Anguissola went to Milan, where she painted the Duke of Alba. He in turn recommended her to the Spanish king, Philip II.
The following year, Sofonisba was invited to join the Spanish Court, which became the turning point in her career. For fourteen years she served as a court painter and lady-in-waiting to the new queen, Elizabeth of Valois, Philip II's third wife, who was only 14 at the time. Sofonisba soon gained the esteem and confidence of the young queen and spent the following years painting many official portraits for the court. Many of her court paintings were destroyed by a fire; others are in the Royal Collection at the Prado museum.
After the queen's death in childbirth at the age of 24, Philip II endowed Sofonisba with a generous pension. She moved to Sicily, and where she continued to be a leading portrait painter.
Financially independent, internationally recognized for her talent, and respected for her creativity and intelligence, Sofonisba was a true Renaissance woman. Sofonisba's great success opened the way for larger numbers of women to pursue serious careers as artists.
Private life
: Sofonisba married twice. After his young queen died, Phillip arranged a marriage for her to the viceroy of Sicily. She was 38. She moved to Sicily and continued to paint. Her husband was said to have been supportive of her career. He died in 1579.
Two years later, while traveling to Genoa by sea, Anguissola fell in love with the ship's captain, a wealthy sea merchant; they married in 1580, when Sofonisba was 48. Her husband was considerably younger than she, but he was devoted to her and supported her artwork, and the two had a long and happy marriage.
Anguissola painted her final self-portrait in 1620, and died in Palermo in 1625, at the age 93.
Although I have seen her work at the Milwaukee Museum of Art, I don't have my own photos to share.
Examples:
Self-portrait at the Easel Painting a Devotional Panel, 1556
Internet
Portrait of the artist's family:
her father Amilcare, sister Minerva, and brother Asdrubale, 1558
Internet
The Artist's Sister Minerva Anguissola, c. 1564
Milwaukee, Internet




The Artist's Sister Minerva Anguissola, c. 1564
Milwaukee
Photo by Dan L. Smith
Philip II, 1565
Internet
Portrait of a Spanish Prince as Hunter (Philip II?), 1573
San Diego, Photo by J. L. Smith